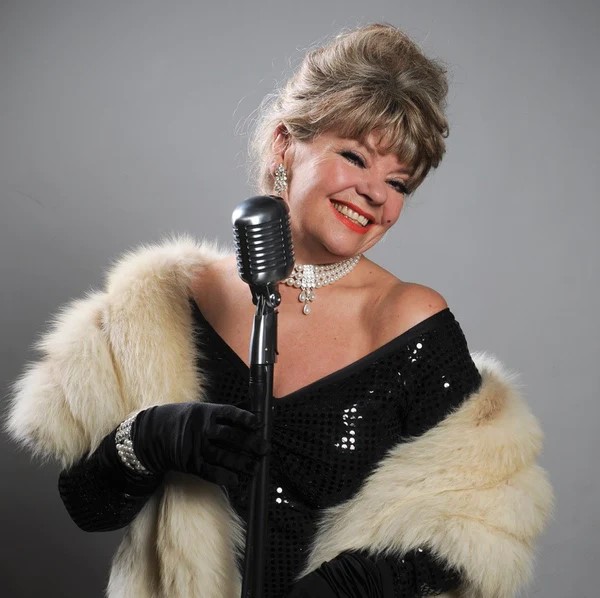 Erna Ferry's music career began in the 1980s, and nearly forty years later our local star has earned a national and international reputation.
Born in Germany, where her father (a Scottish Black Watch soldier) was in charge of helping refugees and displaced people in the Ruhr after World War II; Erna's family moved to New Zealand when she was three.
After her father passed, when she was eleven, her mother remarried, and they started a new life in Palmerston North.
Growing up in the city, she attended Palmerton North Girls High School and developed her love of music.
"I formed a group with two of my friends called the Bluejays. We sang together and dreamed about music," Erna recalls of her early experiences performing.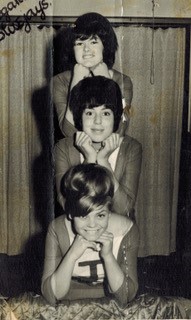 While she was a student at Palmerton North Girls High School Erna ferry and two friends formed the Bluejays, her first foray into music. Image courtesy of Erna Ferry
Post secondary school, she travelled and spent several years living in Wellington, before taking off on a seven-year OE in Europe.
After seeing the world, she returned home, got married and had children, but never envisaged singing would ever be more than a hobby.
She credits a friend encouraging her to help with scenery for a local production of The Best Little Whorehouse in Texas, in the '80s, as the turning point in her life.
Her big break came when the show's director, Robert Rimmer, stopped her one day and asked if she could sing.
In need of a vivacious blonde for the starring role, Erna was encouraged by her friend to audition.
"We were travelling to Wellington in a car and I sang 'Ghost Riders in the Sky' to a tape of Tom Jones," she recalls.
The director liked what he heard and wasted no time in casting her as the play's lead.
What followed, was a whirlwind experience that she describes as one of the most terrifying, exciting and satisfying times in her life. Her commitment to the show continued behind the scenes. "I made the clothes my character wore, so I could keep them after the final show. They're still in storage," Erna laughs.
Bitten by the performing bug, more shows followed including '80s favourite 'A Slice of Saturday Night'. The show proved to be a vital step in her music experience.
Cast mate Simon Bowden, introduced her to the world of jazz, showing her a song book of jazz standards.
"This was music I knew and loved. Many of the songs were the show tunes of the '20s through to the '40s that my parents listened to when I was growing up," she says.
The experience opened new opportunities. Her cast mate convinced her, and another young musician, to form a band called 'After Hours'. This helped her hone her skills.
Juggling her family with her new-found career, the trio 'After Hours', carved out a reputation with shows across Palmerston North.
By 1993, when her jazz repertoire and reputation as a singer had grown in Manawatū, a friend entered her in a national Jazz Quest competition without her knowledge.
Erna took it in her stride. On the night of the competition, she performed until 10pm at a local restaurant with the trio, before her father collected her and drove her to Wellington for the first heat. Erna remembers arriving at midnight and having just enough time to take off her coat before she hit the stage.
"I sang three songs including 'Mack the Knife' and won that week's heat," she says.
Three weeks later she took top honours at the Jazz Quest final. That was the point Erna realised she 'had arrived' and was part of the jazz community.
Later that year she joined jazz legend, Al Jarreau, on his New Zealand tour as the support act.
"I realised there was no money in jazz unless you were the one who was headlining, so I developed a multi-genre approach to my singing," Erna says.
Her approach enabled her to turn her talents to performing at a variety of events from weddings to conferences, product launches, special occasions, and gigs at local bars and pubs.
In 1998 she met New Zealand jazz legend, Rodger Fox, at a festival in Whanganui. The meeting led to both a personal and professional partnership, that has spanned more than two decades.
"We were both single and we clicked personally and professionally," she says. "Roger tricked me into putting out my first album. He secretly collected my charts from small groups and sent them to an arranger in the United States, who rearranged them and sent them back as Big Band charts," she recalls.
With all the hard work done, she agreed to the project, and her debut album, Devil May Care, followed.
The success of this album led to a second CD in 2004, Big Blues, that drew its inspiration from her part in a World Blues review tour throughout New Zealand.
In the years that have followed, the partnership has flourished both personally and professionally, with national and international tours and recognition as a formidable force in the music scene.
Throughout it all, two constants have remained in Erna's life – her passion for music and her connection with Palmerston North and Manawatū audiences.
While her career sees her travel far and wide, Palmerston North is still her home and the place where her music memories began.