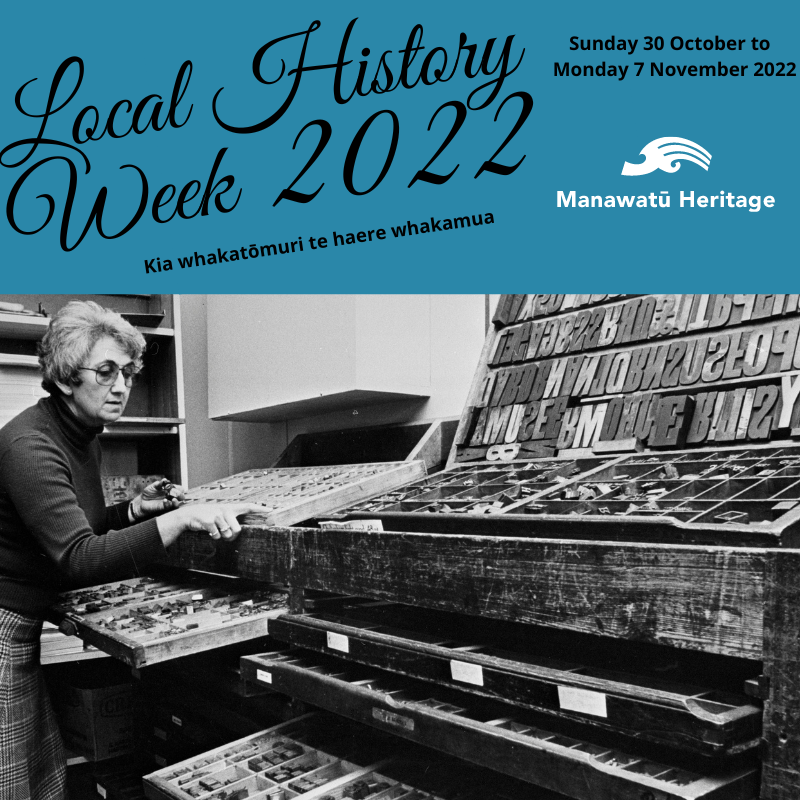 Local History Week 2022 runs from Sunday 30 October to Monday 7 November. It's jam packed with opportunities for you to explore our heritage buildings in Palmy, hear from local historians, and hear from professionals who work every day to preserve our heritage – from buildings to photos, history and memories, and much more.
You can check out the programme online here, and we also have a handy brochure that you can collect from the library, or download here and print for easy reference:
Some great things you might want to check out:
Dame Vera Lynn Remembered
Taking you back in time, Vicki Lee sings hits from Dame Vera Lynn. Performance will be followed by afternoon tea. Join us in the former C M Ross tearooms, now part of the City Library.
Sunday 30 October, 3-5pm / Second Floor, Central Library
Lunchtime Talks
On every weekday of Local History Week at 12noon. All are welcome! Bring your lunch, hot drinks are provided.
Queen Elizabeth II in Palmerston North
The pox, the flu and the 'rona
Palmerston North's post-Second World War transit camps, 1945-1959
Earning a Crust: Faces of Work in Palmerston North's Past
Archives Central
The Process and Self-Publishing of a Memoir
Archive Tours
We have opportunities to tour the Palmerston North City Council Archive and Massey University Archives. Discover these precious historical repositories, and meet the people who preserve history every day.
Jumping Jellybeans – Jump into the past
A great one for the littlies, we celebrate local history with some fun 'old school' preschool activities.
Wednesday 2 November, 10 – 11am / First Floor, Central Library
Special Event: Poets on Palmy
Join us for an evening to celebrate Palmerston North Poets and poetry. Starring Manawatū poets Tim Upperton, Tim Saunders and Jo Aitchison, with special guest James Brown (ex-Palmerston North).
Thursday 3 November, 6pm / Second Floor, Central Library
Special Event: The Forgotten Coast
Richard Shaw, Massey University, explores a personal story from our bicultural history. In his book The Forgotten Coast (2021) the author tells an old family story he was never told when growing up: that his ancestors once farmed land in Taranaki confiscated from Māori and sold to his great-grandfather, who was with the Armed Constabulary when it invaded Parihaka on 5 November 1881.
Sunday 6 November, 2 – 4pm / Second Floor, Central Library
Mina McKenzie Memorial Lecture: Stories of change and innovation in the regions: Women in New Zealand museums since the 1950s
Women now run most of the significant regional museums in New Zealand, including Te Manawa, and yet the figure of the museum director at a metropolitan level remains overwhelmingly male. This illustrated lecture focuses on the role of women in New Zealand museums and shows how they moved from honorary and voluntary roles to running museums over the 20th century.
Monday 7 November, Doors open 6.45pm, Lecture at 7pm. Te Manawa Museum Society Event. Te Rangahau Curiosity Centre, Te Manawa
Heritage building tours
Heritage sites across the city are opening their doors on Sunday 6 November for you to discover and appreciate.
Hoffman Kiln, 615 Featherston Street, 12 – 4pm
Palmerston North Electric Power Station 162 Keith Street, 12:30 – 4pm
Caccia Birch House, 130 Te Awe Awe Street, 12:30 – 4pm
You can keep touring the city's heritage in your own time with the Manawatū Heritage Tours App.
This is just a selection of things that we have happening for Local History Week, so be sure to check out the programme above and take note of what catches your eye!