15 Nov 2022
The Story of Home Service Deliveries
2022 marks 50 years of the library's Home Service deliveries to members of the public who can't visit because of illness, disability, limited mobility, and support. This is the story of our home service deliveries from 1972 to today.
1972
In February, a 'Housebound' service began as a trial, with 17 customers and 6 delivery volunteers. By November the service was made permanent.
1975
The service has six volunteer delivery drivers, 17 housebound clients, and was expanded to 3 local rest homes. The image to the right shows a home service delivery taking place in 1975 and was originally published in the Manawatū Guardian. Source: Manawatū Heritage.
1979
The talking book service was enabled by the Palmerston North Rotary Club. As part of the Rotary International 75th Jubilee project, $3,000 was donated to the Library to provide about 100 talking books (audio books) to start the scheme.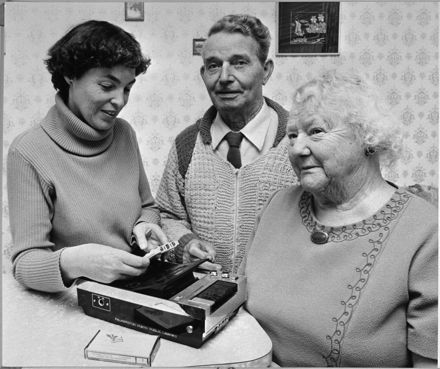 The new Talking Book kit under review by Marie Moncrieff, Librarian; William Mansfield; and Dorothy Mansfield ('House-bound' borrower)
Originally published in the Manawatū Evening Standard in 1979. Source: Manawatū Heritage
1988
The service was expanded to 30 volunteer drivers and 65 clients.
2003
Under the guidance of Housebound Coordinator Deon Knox, the service had 40 volunteer drivers!
2007
The service had 82 clients.
Having the Home Service is excellent for me. I don't have any transport except taxis, so having books and a jigsaw puzzle delivered every few weeks is something I look forward to and enjoy. I love reading, it takes you out of where you are and to wherever you're reading about. Jigsaws are always a challenge – the harder ones are the ones I really enjoy. Because of Covid, meeting and talking with anyone who delivers the books and puzzles hasn't been possible but to me, the Home Service is JUST THE BEST.

Home Service client Betty Holmes
2014
The Library's Home Service are shared winners of Asia Award for home services and reminiscence programme.
2017
Heather Hurrell retired after 10 years as home services coordinator. In November Nora Kilpin took up the reigns as home service coordinator, and is still in the role in 2022.
The service introduced new 'Victor' players for the audiobooks, replacing the 'daisy players' that were offered to customers for long term loans. 
2020
Covid-19 restrictions pause Home Service deliveries during the first lockdown of 2020. When lockdown was lifted, staff picked up more of the selecting and delivery work, to keep our clients and volunteers safe.
2022
February saw 50 years since the inception of the service, while November is 50 years since the service was an official, permanent service at Palmerston North City Library.
We welcomed back our volunteers from July.
Being an avid reader myself I have enjoyed selecting for those who otherwise might be deprived of reading material. Long may this fantastic service continue.

Home Service volunteer Annette Bolton
I'd like to help!
Our volunteers select books according to our client's preferences, and deliver and pick up bundles once a month, on DAY OF WEEK/ DATE. We are always happy to welcome new volunteers – to find out more contact us here.
I'm interested in receiving Home Service deliveries
If you're unable to visit us because of illness, disability or limited mobility, and no-one else can do this for you then the Home Service may be for you. We discuss your interests and needs, and select a bundle just for you. And it's not just books – we deliver music, DVDs and puzzles too!
Contact us by email, or call (06) 351 4100.