21 Sep 2023
Early influencers: George & Louisa Snelson
In the early years of Palmerston North one couple helped to forge the foundations of our city, earning a reputation as its mother and father.
George and Louisa Snelson are credited with founding and initiating many of the institutions and civic projects during the 1870s and 1880s in Palmerston North.
George emigrated to New Zealand in 1863, from his home England, travelling to Wellington on 21 February on the Earl of Windsor. In Wellington, he was employed as a clerk by E. W. Mills, an ironmonger and general merchant.
It was there that he met his future wife, Wellington-born Louisa Matilda Buck. The couple married on 6 July 1865. 
In 1870 as the newly formed settlement of Palmerston was developed, the government began to make arrangements for the emigration of Scandinavians to the area.
E.W. Mills agreed that George Snelson, who was by then his business partner, should go to Palmerston to open a general store and ironmongery.  
In mid 1871, the general store opened and Snelson was listed in the Wellington Almanac of 1873 as 'Postmaster and Registrar' and 'ironmonger, general storekeeper, and land agent, Palmerston North, Manawatū '.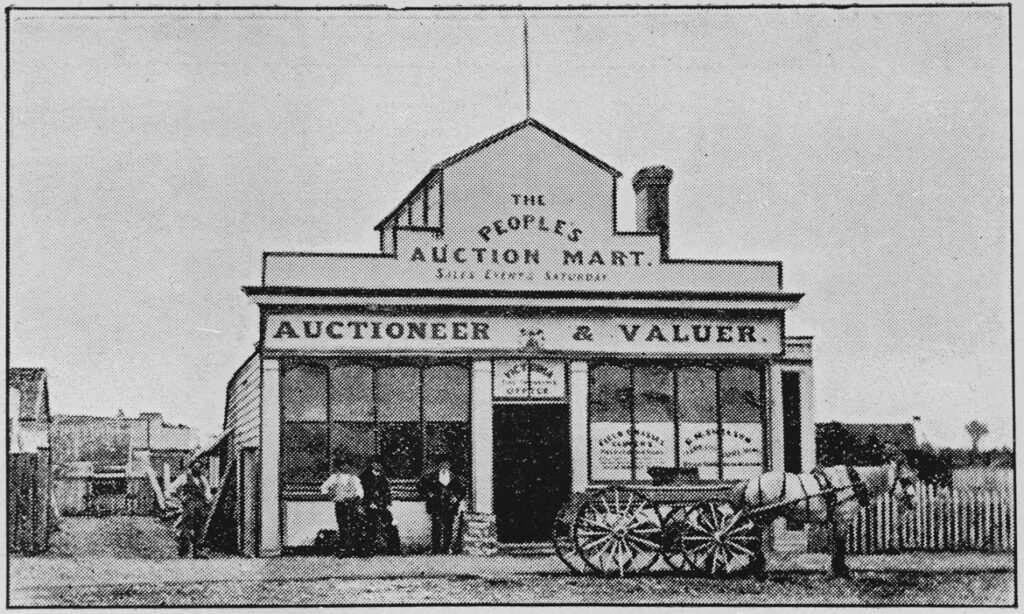 The Snelson's general store and ironmonger, circa 1878. This building was owned by George Mathew Snelson, the first storekeeper, auctioneer and land agent in Palmerston North. It stood on the western side of The Square between Coleman Place and Main Street west, the site now occupied by the City Library. [Manawatū Heritage, 2009N_Bc47_BUI_2315]
Early settlers to the township were often poor and had limited English. To provide them with a better start, George offered credit on purchases while Louisa provided a letter-writing service at 6d. a letter. She also took in boarders and cared for children in the couple's home.
As the community expanded, and the town grew, Snelson's name became synonymous with a wide range of civic undertakings.
In 1876 he was elected to the Manawatū County Council, becoming its first mayor the following year. He served four terms as mayor between 1877 and 1901 and was also borough councillor for most of the 1880s.
His civic duties during this time increased as took on new roles, serving on the Manawatū Highway Board (later the Manawatū Road Board) and the Wanganui Education Board, he was Registrar of Births, Deaths and Marriages, and a Justice of the Peace.
Louisa was one of approximately 523 Palmerston North women who signed the Suffrage petition, submitted to Parliament in 1893.
While George's success in local government is evident, his two attempts to be elected as a member of parliament, in 1879 and 1893, failed.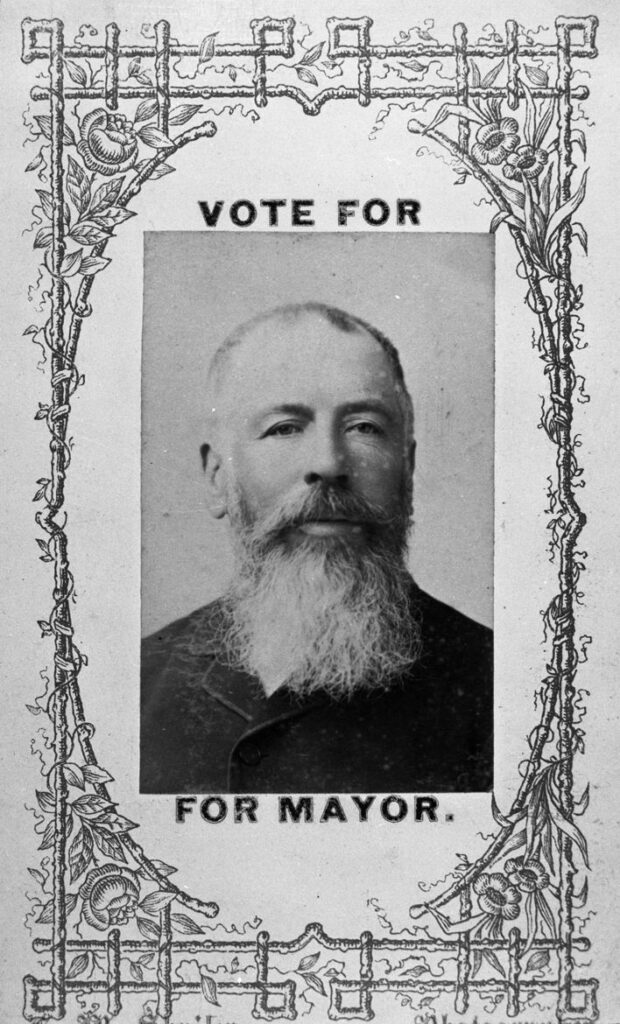 George Snelson was the first store-keeper, first Chairman of the Manawatū Road Board, first Chairman of the School Committee, first Chairman of the Hospital Board and first Postmaster but he is best remembered as the first Mayor of the Borough in 1877, and again in 1883.
Poster by George W Shailer, circa 1890, advertising George Snelson's campaign for re-election as mayor. [Manawatū Heritage, 2007N_Pi1_PEO_0339]
During Palmerston North's formative years, the Snelsons' campaigned to have land set aside for a school. George served as the first chairman of the schools committee in 1872 and a committee member for some years afterwards.
As the need for a hospital grew, the couple led the charge for fundraising. The first hospital opened on 21 November 1893, George served on the Palmerston North Hospital and Charitable Aid Board from 1892 and was chairman for at least two terms.
While these activities alone would have consumed many people, George's community spirit grew year on year. He was involved with the Palmerston North Volunteer Fire Brigade, spent time as the president of the town's musical union, was a founding member of the Manawatū and West Coast Agricultural and Pastoral Association, held the vice presidency of the local acclimatisation society, was chairman of the domain board and an avid promoter of the establishment of the city's esplanade.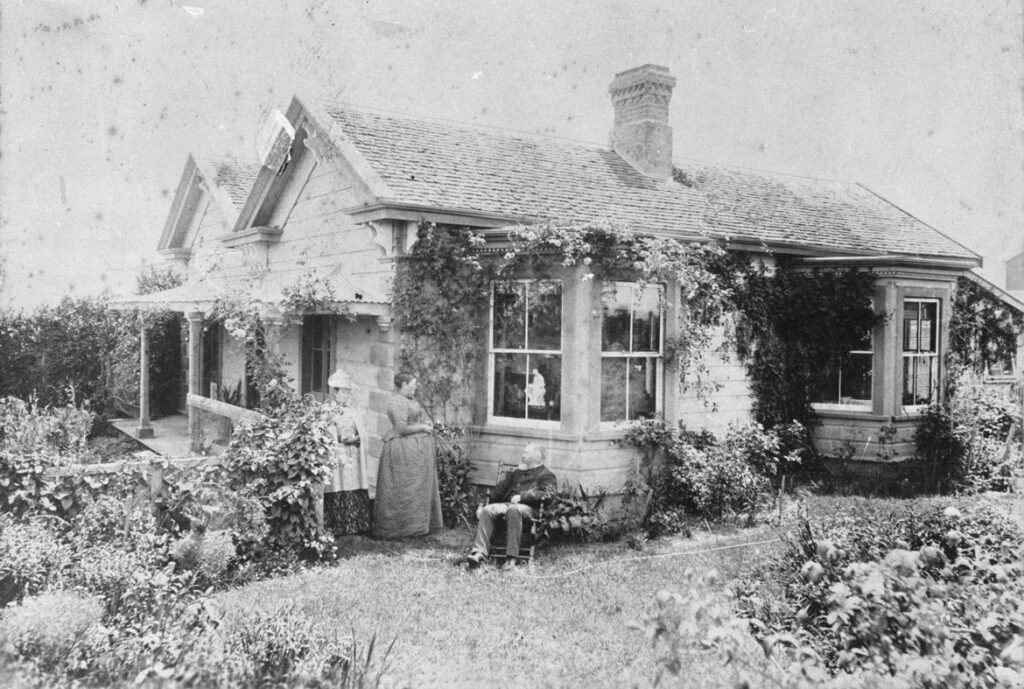 George Mathew Snelson and wife Louisa Matilda Snelson are shown here in the garden of their Fitzherbert Street home. George was the first mayor of Palmerston North and he and his wife are known as "the mother and father of Palmerston North." [Circa 1885, Manawatū Heritage, 2008N_Bur13_BUI_1838]
Supporting her husband, Louisa Snelson's name was as closely associated as George's with social and religious initiatives in Palmerston North.
In the early days of Palmerston North, Anglican church services were held at both their home and store, and on 29 September 1875 she laid the foundation stone for All Saints', the first Anglican church in the town.
Of particular interest to her was the welfare and education of local Māori. Such was her involvement; she was believed to be fluent in Te Reo and developed close relationships with local iwi.
In 1907 she was invited by Erini Te Awe Awe to share in the unveiling of the monument of her brother Rangitāne chief Te Peeti Te Awe Awe, which stands in Te Marae o Hine / The Square, Palmerston North.
Following George's death. Louisa Snelson moved to Australia in 1903. She returned to Palmerston North several years later and continued her community service and fundraising up until her death in 1919. Photo by Bunting Studio, circa 1914 [Manawatū Heritage, 2013N_Pi291_006926]
By the late 1890s, times of economic depression and poor health changed the Snelsons' fortunes. Businesses and land holdings around Te Marae o Hine / The Square were sold, and the couple moved to Hokowhitu.
Reliant on income from his local government appointments as coroner, borough valuer, and secretary to the cemetery board, the couple struggled through harder times and occasionally sought relief from their rates charges.
In 1901 George campaigned and was elected to the office of mayor, however his return to public office was brief, presiding over only eight council meetings before passing away suddenly on 31 October 1901.
His funeral on 4 November was a major municipal event; all the shops were closed, special transport brought mourners from Feilding, and flags were flown at half-mast.
Following his death, Louisa was left in a difficult financial position which resulted in selling her home and moving to Sydney in 1903.
Returning to Palmerston North several years later, Louisa filled her remaining years fundraising for various community causes, giving art lessons, and selling her artwork. She lived in private hotels and with friends.
On 15 December 1919, she passed away while visiting friends in Whanganui.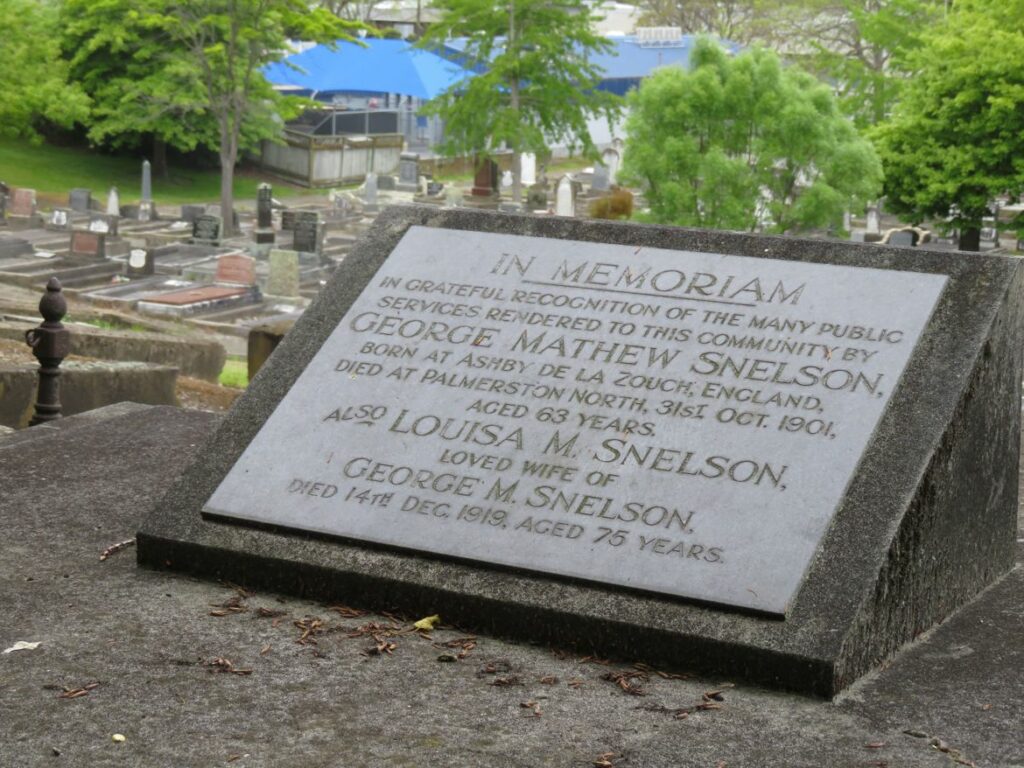 George and Louisa Snelson are buried at Terrace End Cemetery in Palmerston North. George died 31 October 1901 and Louisa on 14 December 1919. [Manawatū Heritage, 2020P_IMCA-DigitalArchive_030234]
The passing of Louisa and George Snelson marked the end of an early chapter in the history of Palmerston North and the reign of a couple affectionally remembered as the Mother and Father pioneers of our city.